If you are truly interested in meeting the Yoga Community in Cuba and exploring the country from a cultural and educational perspective, consider this trip Yoga Va! (Yoga Rocks!) Cuba Dec 1 - 11, 2017.
Not only will you stay in wonderful private Casa Privadas on the Malecon in Habana but besides having daily am yoga with Mary you will also participate in classes taught by Cubans. Some of these classes will be the culmination of a teacher training program (Yoga Va2 or YV2) that we have been involved in for the last few years. You will meet experts in a variety of cultural fields and along with visiting museums, places of ecological interest, we will take a day trip to the beautiful Las Terrazas - a UNESCO biosphere reserve. In the latter part of the trip we will visit health, eco and yoga related communities in Holguin. We will end our trip at a beach hotel where we will share yoga with the local community and again experience what it is to enjoy and support a Cuban expression of yoga, meditation and sangha. This is not for those wanting only to drink mojitos and idle their days away at Hotel Nacional - this trip is for those who want to support Cubans and really find out what is going on in their alternative health and yoga world and to learn from them.
Trip Locations:
Habana Casa Privada in the Malecon, Vedado Dec 1 for six nights. Dec 6 - Day trip to Las Terrazas with our Cuban Yoga friends.
Holguin Early departure Dec 7 Four nights in Beach Hotel, 50 minutes from city of Holguin. Depart Dec 11 from Holguin, either back via Habana or directly to US or international home base.
Appropriate for Who?
- If you are not a yoga teacher or in training or involved in the world of yoga education/tourism, we are inviting applications from health professionals, artists, community organizers and ecological groups. Everyone needs to have a decent yoga practice and be interested in the evolution of yoga in Cuba. This trip is particularly of interest in those who want to come back to Cuba with their own group in a respectful and supportive way in the future. We hope all our participants to be interested in our Yoga Va Latino project and continue to support what we are doing and spread the word on their return home. In this way we hope to undermine the educational "blockade" that has created so much ignorance and confusion about this island and its people.
- It is advisable to speak Spanish even if it is limited Spanish. There are many ways to improve or teach yourself basic Spanish these days and even if you only have a few months, previous participants who have started from scratch, have benefited tremendously in Cuba by being able to understand much of the yoga class instruction, and having the substructure to build friendships and ask good questions!
Travel to and from Cuba:
It is now possible to fly from many places directly to Cuba. You will need to book a flight that gets you to Habana during the day of December 1. Your internal flight to Holguin is covered in the cost of the trip. We finish the trip in Holguin and some airlines fly direct to the US from Holguin ( eg American) so you can leave directly from there on December 11 but you can also return to Habana and leave from there or stay a few days more at the end of the trip. The flight market is constantly changing so please check options before completing the application below and do not book your flights until after July 15 and your place is confirmed on the trip. You will need to purchase a tourist visa via the airline company you fly in with. Fee can be from $40 - 100+
On arrival in Habana, you will need to find and pay for a taxi to your accommodation in Habana. This is a 30-40 minute taxi ride and usually costs 30 CUC or $35. You can change money at the airport. If for some reason you arrive late and cannot change money, most taxi drivers will be willing to take the equivalent in dollars. Please do not come on this trip if the prospect of navigating an airport in an unfamiliar country is overwhelming to you! Usually there are no problems but quite often there are delays getting your suitcase etc and going through customs.
FEE: $3750 This includes 2 meals a day, one internal flight from Habana to Holguin, all accommodation and guide expenses, all travel and events within the country. It does not include tips, souvenirs and extra meal, snacks/mojitos! for which you may need to allow another $300-600. Flights to Cuba are not included in the program fee. If you need a single room, there is a special supplementary fee.
Early Bird Fee: 3650 if paid in full by July 15, 2017. No cancellations after September 1 and 30% cancelation fee prior to that time. Do not book your flight until July 15 and your place on the trip is confirmed.
Please note this fee is much lower than most educational and yoga based trips. This fee includes administrative fees to Altruvistas the company who organizes everything and to Mary for pre trip preparation and specific administrators. You are not charged a dime for yoga tuition. Honorariums are included for all our guest speakers and a donation goes to our yoga project and the studio we use in Habana. No individuals who teach yoga there gain financially from your presence, but collectively and heart wise we all profit greatly! This is our tradition and reduces the cost of the trip considerably. In the future, we hope others will include these teachers in their programs and then honorariums will be appropriate and necessary.
APPLICATION Please answer these questions and send them to Mary via Contacts page. If you do not get a response in 3-4 days, please re-send with Urgent in the email title.
1. Name: Date of Birth: Contact Info:
2. Yoga Background and current practice - Are you a teacher?
3. Do you wish to return to Cuba with your own group in the future?
4. Your level of Spanish. If limited or none, are you prepared to study Spanish so you can communicate to some degree by December?
5. How do you respond to the challenges of inevitable stresses traveling in a country like Cuba that does not have the infrastructure to support the level of tourism occurring right now? eg waiting for many hours for luggage to arrive eg not being able to have our event at one place and having to travel to another part of town at last minute notice eg not having the greatest menu for vegetarians or particular food needs/wants....
6. Do you want a single or a double occupancy room? If double do you have someone you want to share with?
7. From where will you be flying to Habana on (or before) December 1? Will you be leaving from Holguin on your return to home? If not, do you wish us to purchase a return ticket to Habana on December 11? Do you plan to stay an extra few days in Cuba after or before course?
8. Any other questions at this stage?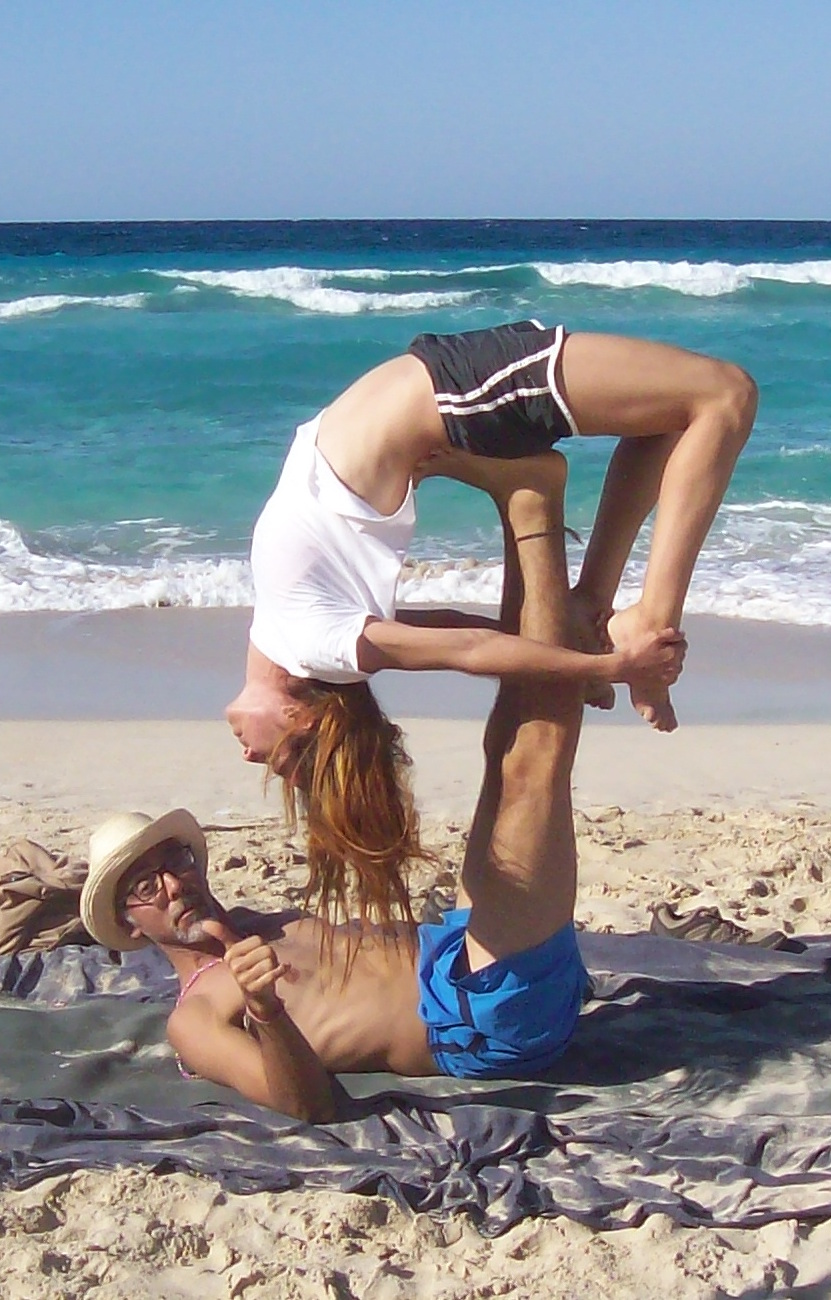 Edgar Ortiz from Costa Rica and part of our YV2 faculty approves of trainee Tamara's pose!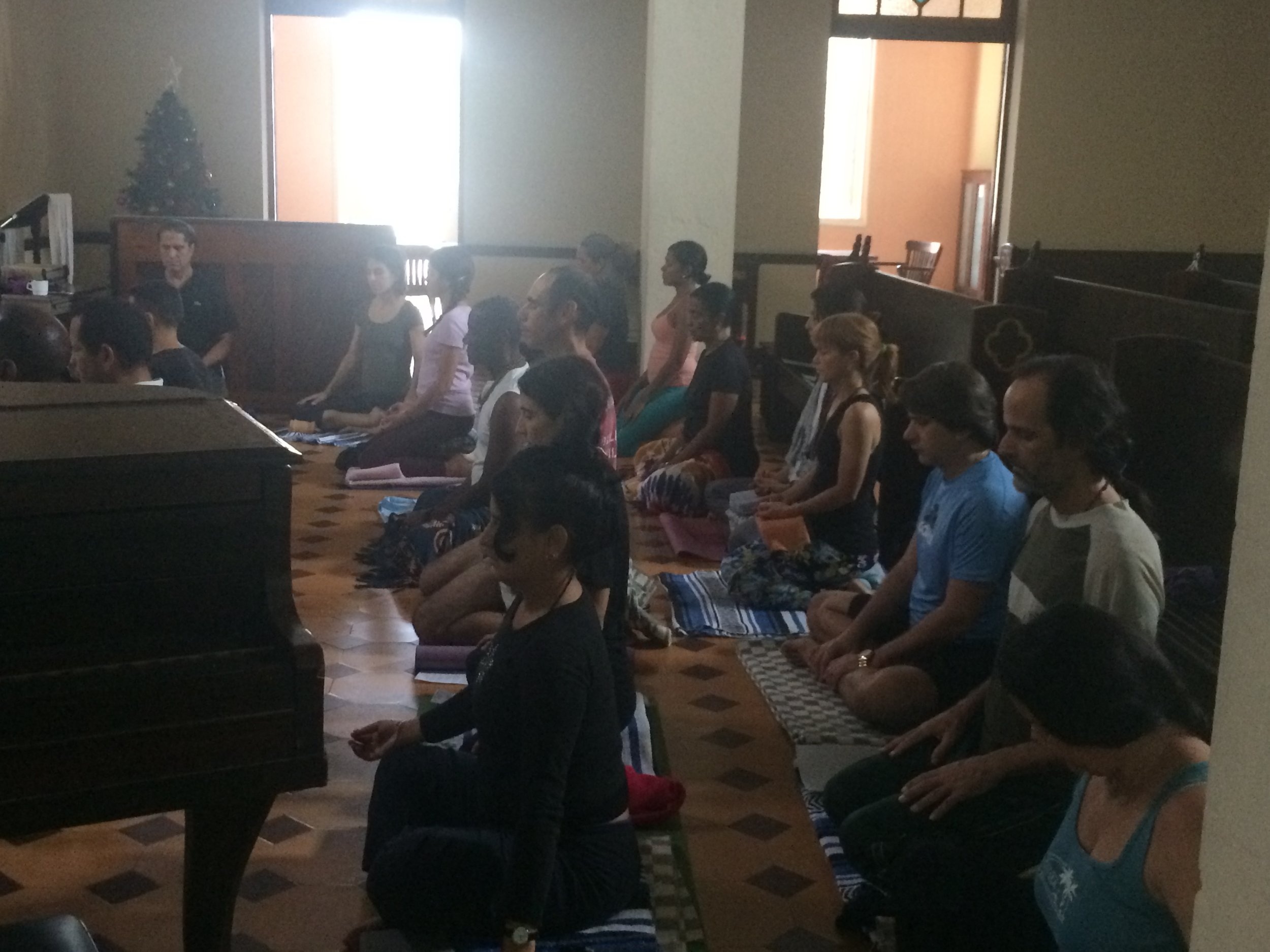 Residential Meditation Retreat with Narayan Liebenson and Juan Sosa held in Habana January 2017